vacation 2011 Südtirol
30Jul11 13:36 Filed in:
Family
Marianne and me spend one week in Rabland (belongs to
Partschins
) in the
Vinschgau
a valley in the western part of Südtirol (Italy). Fact is, it is not far from Switzerland and we knew from our friends that in Rabland the
Hotel Rössl
provides an excellent service.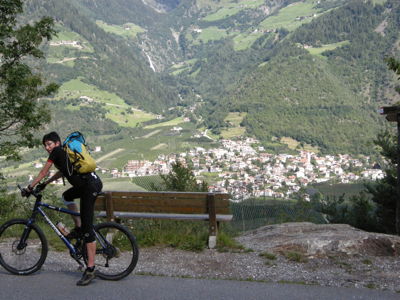 Sure every day we enjoy very much the wellness part of the hotel but after some sports

.
The whole region offers many bike tours well marked so we had no problem finding our way. Well, as long as we followed such a route which wasn't always the case.
The altitude graphs of most of the tours look similar like the one shown below (green): straight up the hill and then down again. I have recorded most of our tours with my Garmin Edge and uploaded the
tracks
to the Internet. You may find more of them on the activity board. Sure there are a
few photos
on a Flickr set too.