notebook line up
During the last half year I have noticed that the most important feature regarding computing and Internet in our family is
portability
not computing power or a big screen. No one except me is working with the iMac because it is tied to the table in our home office. I was glad to have such a powerful computer for drawing the last orienteering map. But now, that it is finished my demand turns toward portable computing too.
That's why we get another portable Apple computer now, a MacBook 13".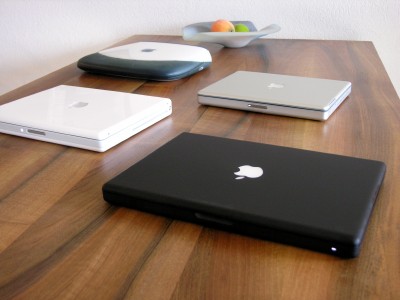 Notebook gallery at Hebeisen's
This is also the time to retire the iBook SE (special edition). It is the last computer still running the Classic OS and having the slower WiFi bandwidth but it was working perfect up to today as an eMail client.
Concerning the iMac G5 it will be sold in the next couple of weeks on ebay or another web auction.